The world of restaurants is an immensely common sight in our world. There are restaurants and eateries everywhere catering to our needs daily. Traditionally there has been a kind of static menu card available that users could avail themselves of in the physical format. But now since we live in an age of technology, the trend is gradually changing, and it is evident that the shift is largely towards digital menu cards or boards. It has to be remembered that digital menu boards have a range of benefits that one needs to consider.
Importance of restaurants
Restaurants are imperative for the development of the local economy.
They can provide scope for culture and commerce.
Restaurants kind of act as a center of interaction and social activities.
The Trend of Digital Restaurant Menus?
The trend towards a digital restaurant menu was somewhat inevitable. It had to take a form at some point or the other. The increased dependence on technology has exemplified this trend even more. These menu cards can offer a competitive advantage, can help a restaurant stand out among a crowd, and also offer a range of other benefits. This article tries to explore seven such benefits of using digital menus these days. Every restaurant can benefit a lot because of these.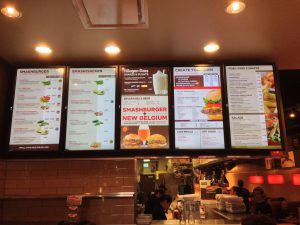 are listed as follows:
1.Healthcare laws are seen to change constantly. The food sector regulations vary greatly according to the needs of the time and according to the authorities. These changes often become difficult to keep track of. Changing physical menus can thus become a challenge too that needs to be considered. But in the case of digital restaurant menu, that is never a point of concern as they can be frequently edited according to the changing rules and thus, they need to be considered.
2. Not all restaurants are speciality restaurants catering to only one meal of the day. Most of the restaurants cater to breakfast, lunch, and dinner. Each of the meals has a separate demand and menu. To offer customized services to the customers thus becomes a challenging area that needs to be kept in mind. To address this problem, what has to be done is that digital menus have to be adopted. These can change according to the time of the day and the particular meal which will make it comfortable for the users.
3. The kitchen inventory can vary from day to day. The logistical factors of a restaurant shall have to be considered with due diligence. If logistics do not work properly then it can be immensely problematic for the restaurants and it is valid for both the small restaurants as well as the big ones. Digital menu boards can help a lot in that direction of managing the inventory and thus is a lucrative option to take note of.
4. Every restaurant at some point in time has to grapple with issues of inefficiency and errors and so on. This can leave a negative impact on them which will directly translate into a loss in revenues. Now, errors are mostly committed due to manual efforts. It has to be remembered that to err is human and this is a very natural thing that can be seen almost everywhere no matter what. Such a situation is never desirable, and efforts have to be taken to prevent that. Digital menu for restaurants can help deal with this situation brilliantly.
5. The content in these digital menus is largely entertaining. It can keep the customers engaged as well as happy. They will then return as customers which will then boost up the revenue of the restaurant.
6. In the world of the restaurant business, consistency is the key to survival. One must give every kind of effort to maintain the reputation of the brand and strive to enhance it always. With digital menus in the play, the process of retaining the name of the brand becomes much easier.
7. Many costs like printing and shipping and so on are eliminated because of these menus. It becomes thus a measure to save investment which can be constructively used in other areas to boost the revenue.
Thus, through this article, we explored seven important benefits of using digital menu cards.