Digital menu boards have turned out to be a staple of the restaurant industry. You need to know that digital menu boards can be a perfect asset for the restaurant business because they help in increasing sales to a great extent.
Static menu boards present at restaurants often create a variety of problems as well as inconveniences. Remember this menu solution is completely static which means once the menu is installed, the installed menu signage is going to stay the same even in the future.
This makes it impossible for the restaurants to change the menu on the fly, they are not able to even change prices or correct typos. Along with this, restaurants are also not able to use attractive video content.
According to several studies, it is revealed that digital menus for restaurants can help in increasing their sales to great extent.
Ways to increase sales through casual restaurant menu boards
With the introduction of digital restaurant menu boards, it is now simple for restaurants to increase sales in a hassle-free manner. Here are some easy pointers to consider: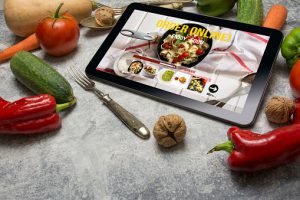 Show visually tempting images and videos
When compared to digital signage, static signage is not capable of offering visual appeal. With the digital menu boards, it has now become easy for the restaurants to offer customers bright as well as dynamic visuals that can stimulate a customer's craving.
Such content can include a cold beverage soaked with condensation or an appealing video of the sizzling burger.
Upsell
On your visual striking displays or restaurant menu board, try to showcase new as well as hot menu items.
Advertise special offers and promotions
You should be aware that special deals and promotions may be integrated directly into your menu using a digital menu board system. Such special offers no longer have to be isolated in a standing poster or any other sort of visual that is situated apart from where the customer is looking when placing the transaction.
Improve the customer experience
If you own a restaurant, keep in mind that one of the things your clients despise the most is waiting. Restaurants can easily show entertaining material on digital menu boards, which may reduce customers' perceived waiting time.
Videos about how food is obtained and cooked, as well as amusing facts and numbers about restaurants or chains, are examples of this sort of material. In this approach, a restaurant can simply connect with its clients while they wait, as well as effectively express their brand and message them.
For installing the digital menu board in your restaurant, it is first necessary for you to design a digital menu to display by using the right tools.